Jr. KG / Sr. KG - Pre Primary section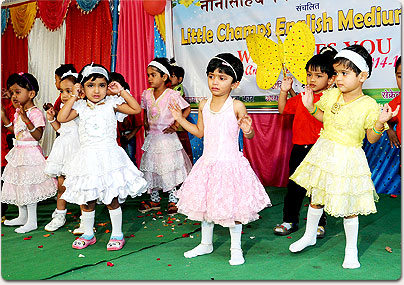 Little Champs English Medium School has its own rich culture and unique ways of teaching with playful methods. School educates each child to climb the ladder of knowledge which sharpens their basic skills. This is very essential for the education of the students. A book to get knowledge, pen to create their aim, rising Sun to grow and grooming children as a good human being is the most important motto of the school. Institution imparts education with latest techniques in teaching equipped with all modern facilities.
Everyone and anyone who wishes to pursue excellence in education is welcomed into our fold. The experience of studying here is also universal in the sense that it prepares one to have an international perspective. We are fully conscious of the fact that we are preparing students to be part of the global, knowledge oriented economy.
Objective and Features of the School

The school will provide a safe and secure environment.

The School Administration, Faculty, Students and Parents will be key drivers of a good school community.

School will help the child to grow into a competent learner and confident communicator.

Comprehensive projects for studentís personality development and overall progress.

Projections of different activities and programs (Yoga, Dance, Music, Meditation, Debate, Sports, Computer education, Games).

Trained and experienced Teachers.

Well-developed play devices and toys.

There is ample provision for various indoor and outdoor activities.